4wd Batteries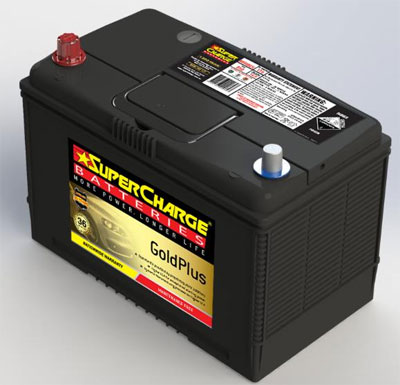 SUPERCHARGE GOLD PLUS 4WD
Our SuperCharge Gold Plus 4WD are packed with Superior starting power and reserve capacity for high performance 4WD vehicles. The SuperCharge Gold Plus range is backed with an Australian market leading 36 month full replacement warranty.

The battery design also incorporates a fully sealed cover design minimizing water electrolyte evaporation or leakage, and come packed with EXG Grids for superior strength against corrosion and overcharging with added SNT for enhanced life and power.

We also stock a wide range of Deep Cycle batteries to be used in conjunction with your Gold Plus Starting battery to complete the 4WD dual battery set-up, checkout our Deep Cycle section for further information.

Click on the 'Match Your Vehicle ' page to figure out the perfect fit for your car or truck.