Trailers
Northcoast Batteries and Trailers are proud to provide Noosa and Tewantin with a one stop shop for Trailer Sales, Spares and Repairs. We stock a wide range of different sized trailers to suit many different tasks so if you need to take some green waste to the dump or move a 2 ton excavator we have the trailer to suit you. Just click on the trailer link below for more details, and give us a call for a quote. Our trailer repair facility is approved by RACQ and Suncorp and caters for all trailer types including Horse Floats, Boat Trailers, Box Trailers, Caravans, Camper Trailers and Aviation Ground Support Equipment (GSE).
Trailer Servicing & Repairs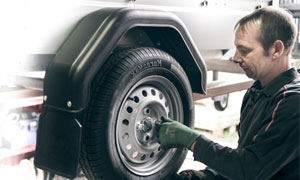 Northcoast Batteries and Trailers provide a free quotation service to make repairs your trailer by experienced qualified Tradesman. Our workshop is equipped to carry out electrical repairs, weld repairs and mechanical work. We only use high quality Japanese bearings and Penrite oils and lubricants for all our Trailer Servicing and repair work. We have standard servicing rates for Boat Trailers, Camper Trailers, Horse Floats, Caravans and Box trailers as follows:
Trailer Spares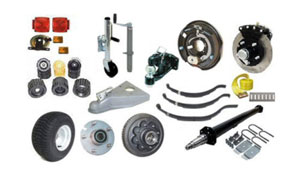 Northcoast Batteries and Trailers stocks a wide range of Trailer Spares for most trailer shapes and sizes. We stock bearings and seals for Holden, Ford and USA Dexter type axles. We keep a wide range of springs, Ubolts, brake pads, brake cables, jockey wheels, bearings, seals, light plugs, shackle bolts and bushes in stock. For special order Trailer parts we can arrange shipment usually within 24 hours. Additionally we can arrange to fit your parts by our qualified tradesman in our workshop.
6x4 Fully Welded Trailer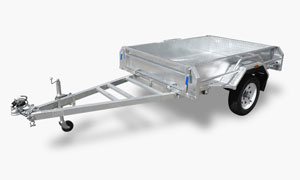 Bundle Package
(Includes 600mm Cage & Spare)

This fully welded and hot dip galvanised box trailer is perfect for the home handyman who doesn't have a lot of storage room at home. This trailer is light on price however is loaded with features.
7x5 Fully Welded Trailer

Bundle Package
(Includes 600mm Cage & Spare)

This is our most popular model due to its size & Price! This trailer is very versatile for helping your mates move house or taking a lot of stuff to the tip! Simply add the 600mm cage & you are ready to load up with enough camping gear to make Alby Mangle envious plus ample storage space above the cage to accommodate the longer toy's such as Kayaks , canoes or SUP boards. So if it's Camping, Gardening or moving house this trailer has it covered!
8x5 Fully Welded Trailer

Bundle Package
(Includes 600mm Cage & Spare)
This is our largest single Axle trailer in the tipping range. The extra length makes this trailer a stand out if you need to move lots of stuff in one trip and for this reason is very popular with landscapers and builders.
8x5 Heavy Duty Trailer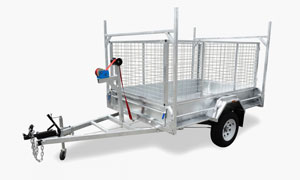 Bundle Package
(Includes 600mm Cage & Spare)
This trailer is designed for everyday use by the most energetic tradesman! The extra heavy duty construction means you can fill the 450mm high sided trailer with over a ton of stuff. The trailers mechanical over-ride brakes add a much needed safety braking margin when towing a heavy load. Additionally this trailer comes standard with the adjustable height Ladder Racks and 600mm cage and a winch. A professional quality trailer for everyday use.
8x5 Motorcycle & ATV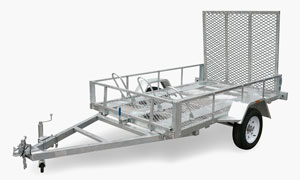 This purpose built trailer is perfect to transport your ATV, Dirt Bikes, Golf Buggy or lawn mowers. The large rear folding ramp makes loading up an ease. The trailer comes standard with 3 removable dirt bike wheel carriers. This trailer has an ATV of 750Kg.
10x6 Tandem Trailer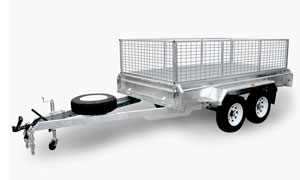 This box trailer has a huge ATM of 1900Kg. The roller rocker suspension and Electric brakes makes this an ideal model if you need to tow very heavy stuff!

Please click below to read more of the Technical Specifications and see more pictures of this trailer
10x6 Hydraulic Tipper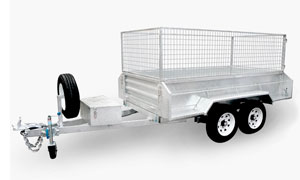 This is our largest Box Trailer in our fleet with a large 3500Kg ATM. The Hydraulic Tipper is powered by an AGM battery and Hydraulic pump fitted in the front tool box. The trailer has 12"electric brakes on all four wheels, with an added Electric Breakaway system. This is a serious trailer which converts your towing vehicle into a tip truck. Trailer comes standard with Spare 14" wheel and 600mm high cage.
12x7 Flat top trailer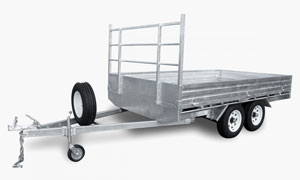 This is our Plant and equipment towing trailer, if you have a Bobcat or excavator that needs towing this is the ideal trailer for you. The 3500Kg ATM gives this trailer a payload of 2350Kg. All sides fold down and are fully removable to create maximum space on the trailer deck. A pair of loading ramps are included in the price.
4.0mtr Boat Trailer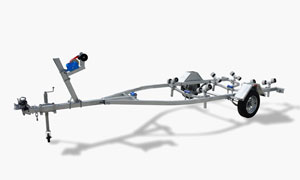 Our 4 Meter boat trailer is designed for boats from 3.5 - 4.4 meters in length (11.5 to 14 foot). The ATM of this trailer is 750kg (no brakes). This multi-roller boat trailer comes standard with submersible LED lights and swing-away jockey wheel.
6mtr Boat Trailer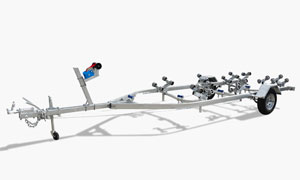 Our 5.5 Meter boat trailer is designed for boats from 5.1 meters to 5.6 meters long (15 to 18.5 foot). The ATM of the boat trailer is 1500kg. This trailer comes standard with mechanical over-ride disc Brakes, LED lights and swing-away jockey wheel.
Lawn Mower Carrier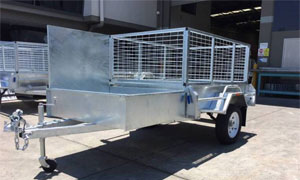 Our lawn mower carrier is designed for landscapers and gardeners to help free up more space in the trailer for green waste while still having plenty of room for the mowing equipment. This optional extra can added to most of our existing trailers or sold separately.